Good morning, Readers – I hope that you are enjoying your cult-free late summer! This here picture is of the big Cult Confessions pilot presentation in Cleveland, mom's birthday present — by request.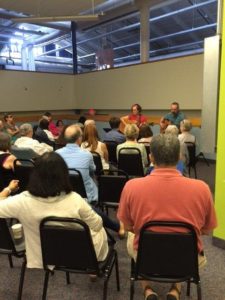 CD Crowdfunding is going well, but I have hit that half way point. Crowdfunding gurus inform me that donations trickle down, at this point … in "school" we had a name for this phenomenon: "hitting an interval" …. or "slowing vibrations" – remember that? Gosh, I really miss that pretentious language … not.
I've got 20 days and $2825 to raise! The good news is that I'm over half way to hitting the goal! $350 by days end would be fab – that'd get me to $3500  🙂 Can anyone out there help me get there???  It's easy, I promise, and I won't insist on secrecy. I won't ask you to recruit … well, I might ask you to recruit … but it's not required for membership 🙂
Here's the link: Cult Confessions: The CD!

Thanks for reading & contibuting!!!